You are currently browsing the Uncategorized category.
Made of lightweight foam and a tough plastic hardcoat. This temporary Colorado billboard will morph into a giant?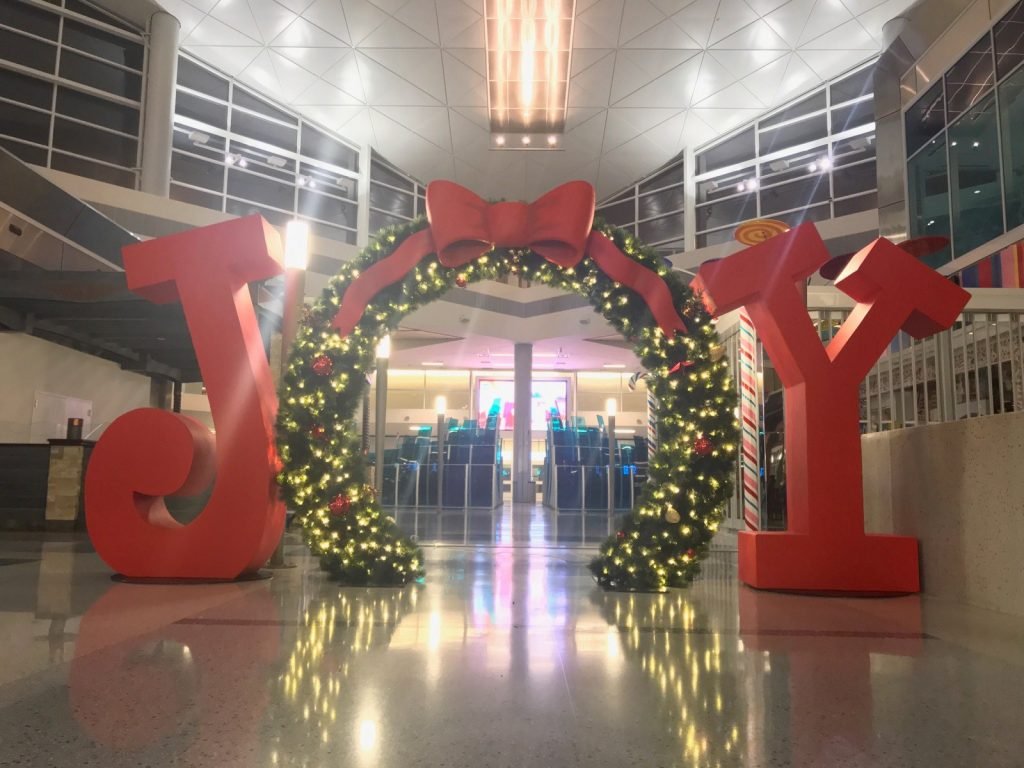 Giant 3d eps foam letters & bow with polyurethane plastic hardcoat. A creative walk thru at DFW internatioanal airport. Made for a Colorado company Alpine Artisans. Some companies offer large foam lettering for less $ but ours are made well. Clean and tough does the stuff. This is one industry where you get what you pay for!
25 years of building props and my customers keep throwing me curve balls.  We built an eps foam head that fit snug over the existing bull head and horns.  The ears were sewn upholstery pads that were Velcro  attached in case a rider crashed down on them.   Keep'n it safe as possible!  Odell's was the end user.  I built these for Proctor Productions in Denver.  We're good at strong but light here at Eyecandyprops.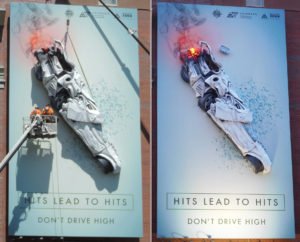 Here's a fun one!  Hits lead to Hits!  Amelie Company in Denver had us make this
28 ft long 3D joint in the shape of a wrecked car.  Im most proud of the weight. 379 lbs.!
Design engineered to meet local code.  expertly installed.  This prop looks awesome day
night.  Colorado's legal pot industry is being met with Colorado Dept. of Transpotartion
public service announcements.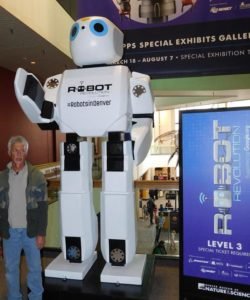 We made 3 of these 10 ft tall Darwin robots for DMNS.  They
were fun to make and the visitors seem to love as well.  With an
internal steel armature, lightweight eps foam & a polyurethane
hard coat shell they are light weight & durable.   Thanks to the
crew at the museum.
EPS foam is a great material.  Light weight, not too expensive & relatively safe to work with.  Its only flaw is it's fragility.  We spray a strong 2 part plastic coating on our props.  Then we finish the look with automotive paints.  Using materials that are industry proven means our sculptures last indoors and outside in the elements.  The prop I'm coating in the photo was designed for children to climb on.
These foam displays were some of many spot props for the 2015
Winter X Games in Aspen.  Built for Harmonic Media in Colorado.
If it only worked as a real controller!  something to think about!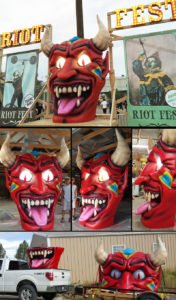 This was fun.  Made for Dave Schaich owner of Shike Design.
10 ft tall x 8 ft wide.  It will be seen at the Denver, Chicago,& Toronto
Riot Fest!  This reminds me of why I started doing this stuff.
Thank you Heidi Bishop for the photo at the show.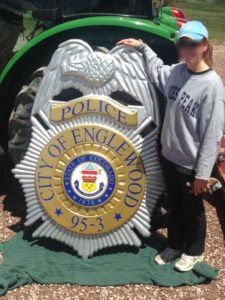 This intricate hand carved eps foam sculpture is extremely
light and durable. The finish is Matthews paint and the
lettering was in 3M vinyl. Thanks to all law enforcement
for your service.